Fegnion™ is a family owned and operated raw cat food company. Fegnion's passion, mission, and beginning can be traced back to one of the most beautiful boroughs of New York-Queens.
It was at a backyard summer BBQ in 2006 where the idea and inspiration for Fegnion was born. Her name is Gnocchi, the daughter of a rescue cat later named "Queen Bee". Gnocchi, the only survivor of the litter, was abandoned by her mom days after birth. It was at this BBQ where Fegnion founder and owner Alma became a fur parent for the first time.
Veterinarian Dr. Kwasnik told Alma that Gnocchi's chances of survival were slim at best and that just days after birth, with an umbilical cord still attached, she would need the care of her mother to survive. Despite her demanding schedule as a pharmacist, Alma pushed forward with feedings every 2 hours, coordinating scheduled feedings with family, and at times bringing Gnocchi to work. Needless to say the love and nurturing Gnocchi received, carried her through the growing pains of her first 6 months of life.
Gnocchi's conversion to solid, nationally branded cat food had appeared seamless. However, it would soon be apparent that Gnocchi's growing pains were far from over. After just a short period of time, Gnocchi's weight was exceeding that of a healthy cat. Alma made every effort to change and seek the best food available for her fur baby. The repercussions of Gnocchi's dramatic weight gain would soon be a blessing in disguise.
A loud thump was all Alma heard early one morning. Gnocchi's weight along with soon to be diagnosed preexisting condition, was no match for the jump down from a windowsill. After being found startled and later an emergency visit to Dr. Kwasnik, the diagnosis of hip dysplasia and the luxating patella was made. Surgery was an option, but proper diet and weight were a priority.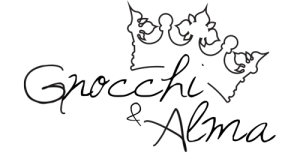 With a biology degree, Doctorate in Pharmacy and 13 years of practicing pharmacy, it was only second nature for Alma to begin researching and evaluating data in her quest for the best diet for Gnocchi.
Alma came to the realization that the most natural way to manage Gnocchi's diet was by feeding her "raw". However, there were no products on the market that mimicked the true raw ancestral prey diet. It was time for Alma to take matters into her own hands. She began in her kitchen by grinding various cuts of fresh chicken and turkey for Gnocchi's daily feedings.
It wasn't long before Gnocchi developed a brilliant, shiny, dander-free coat, and became very energetic. She produced an odorless stool and most importantly dropped weight. Family and friends who were also fur parents were asking Alma how they could start their fur babies on the same diet. A company was born. Gnocchi is not only the motivation behind Fegnion, but is also the company's acting Director of Taste Testing.
Gnocchi was born July 7th, 2006, in Forest Hills, NY. When Gnocchi is not hard at work tasting delicious products one would find her on a windowsill, basking in the warmth of the sun. Gnocchi would soon have a roommate by the name of Domino, a slender, energetic 8-month-old rescue kitten. Gnocchi wouldn't have to go far to spend time with her family. Gnocchi is Domino's great aunt, and now also her boss as Domino is also a member of the Fegnion taste team. As most energetic cats do, they like to spend time frolicking around the house, chasing tails, and the usual playful surprise ambush on mommy when she comes to the door. We are happy to say that Gnocchi and Domino are still up to their playful ways.
Gnocchi
[nok-ee, noh-kee; Italian Nyawk-kee]
NOUN
(in Italian cooking) small dumplings made from potato, semolina, or flour, usually served with a sauce.
From early on, Alma knew this rescue kitten soon to be named Gnocchi, had to find a new home. Alma didn't seem a likely candidate given her cat allergies. She was desperately trying to find a home that would give Gnocchi the special care she needed. One night during feeding, Gnocchi seemed more interested in what Alma was eating, she kept pulling away from her canned food and wanting some of Alma's food instead. Alma was eating potato gnocchi and with the tip of her finger, gave some homemade red sauce to Gnocchi. With her striking similarity to a little dumpling and her taste for fine cuisine, the name Gnocchi was born.  Alma's willingness to take allergy medications daily opened the door to a wonderful place Gnocchi would call home.